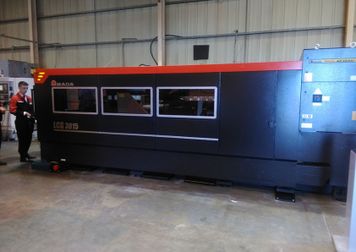 With in house laser and bending facilities Axiom can provide you with a turnkey opportunity.
Our Amada LCG3015 CO2 laser-cutter allows us to handle mild steel up to 20,0mm thick; stainless steel to 10,0mm; and aluminium to 8,0mm.
Quick cycle times with finished components requiring little or no deburring reduce costs to the end user.
Our Lantek Expert nesting software allows for excellent sheet utilisation on even those most awkward of shapes helping to reduce component costs and expensive material wastage.
Once cut we can precision fold your parts on our 7 Axis Amada bender ensuring excellent tolerance adherence and exceptional repeatability, always helpful for your on-going assembly and fabrication needs or we can complete the fabrication for you.
Our welding department is equally committed to quality utilising MIG and TIG to suit all your needs.
Assembly work can be undertaken and of course we offer most commercially available finishes through our network of trusted business partners.